EIT Digital ARISE Europe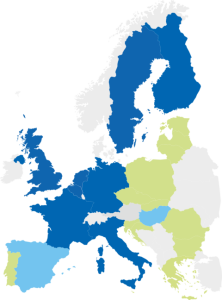 EIT Digital was founded with the mission to turn Europe into a global leader in digital innovation. The organization is present in 9 European countries through its 8 Nodes and 2 Associate Partner Groups, but it holds a great significance to stimulate regional growth in those EU countries that are not directly involved in EIT through one of its Nodes or APGs.
The objective of the ARISE Europe programme is to disseminate and promote EIT Digital activities, connect local and regional Innovation Centres to EIT Digital's innovation and education ecosystem, and provide opportunities for students from ARISE countries to participate in EIT Digital education.
The target countries of the ARISE Programme:
Estonia
Latvia
Lithuania
Poland
Portugal
Greece
Cyprus
Bulgaria
Romania
Slovakia
Czech Republic
Slovenia
Croatia
Malta
Mission
Connect the most innovative local ecosystems to a network of about 140 Partners representing global companies, leading research centres and top ranked universities
Strengthen Innovation Centres capabilities, linking them to EIT Digital's Innovation Activities, Business Communities, Access to Market and Access to Finance Services
Foster entrepreneurial skill development by connecting local talents and educators to our schools
Activities
To fulfill its mission, the ARISE Europe program collaborates with selected local organizations in:
Central and Eastern Europe
The Budapest Associate Partner Group is the only EIT Digital representative in the Central and Eastern European (CEE) region, so it plays a special role in connecting the neighbouring ARISE countries to the EIT Digital ecosystem and involving CEE students in EIT Digital education.
Last modified: July 15, 2016